In the modern world, Hollywood and television streaming services dominate our viewing habits but it's not always just the characters that strike a chord. Sometimes you find a vehicle is just as memorable as the lead man or woman.
Batman has the Batmobile, Marty McFly has the DeLorean and the Winchester brothers, Supernatural stars, the old school Impala. Still, what about the best car brand in the land? Here are five times Porsche have made an impression, strolling on screen.
5 – THE REPLACEMENTS
This sports comedy was released 19 years ago almost to the day and features a star-studded cast including Keanu Reeves and Gene Hackman. The film follows a fictional American Football team in their race for the play-offs as their players go on strike and the last few games have to completed with a team full of stand-ins.
The sub-story is an intense rivalry between striking quarterback Eddie Martel and his replacement, Shane Falco. Martel is the bad guy in the movie, but it still hurts to see his Porsche windows get shot up by Falco's bodyguard, who was played by late sportsman and actor Michael Taliferro, in one of the most memorable scenes.
4 – SIXTEEN CANDLES
It is bad enough that you're a young girl nearing your 16th birthday and nobody in your family seems to care because your big sister is getting married a day later. If you throw into the mix that you're head over heels with a college senior who, as far as you're aware isn't interested in you or your virginity and you have yourself some serious rom-com potential.
If the struggles of a teenage girl are difficult then at least Sam Baker – Molly Ringwald – had the privilege of being picked up by that aforementioned senior from her sister's wedding in a Porsche 944. We know Ferrari's are famed for the red paint work, but we'd take this 944 every time.
3 – RISKY BUSINESS
It's not every day you see a Porsche 928 racing away from a pimp but that's exactly what happens in Tom Cruise's first real breakthrough. Cruise plays the son of a well-respected family that gets lead astray.
Part of that sees Cruise's character Joel approach a prostitute who he spent the night with about a stolen object when he's confronted by her 'boss'. Thankfully, Joel has the v8 928 to power his escape in this 1983 coming-of-age comedy movie.
2 – CARS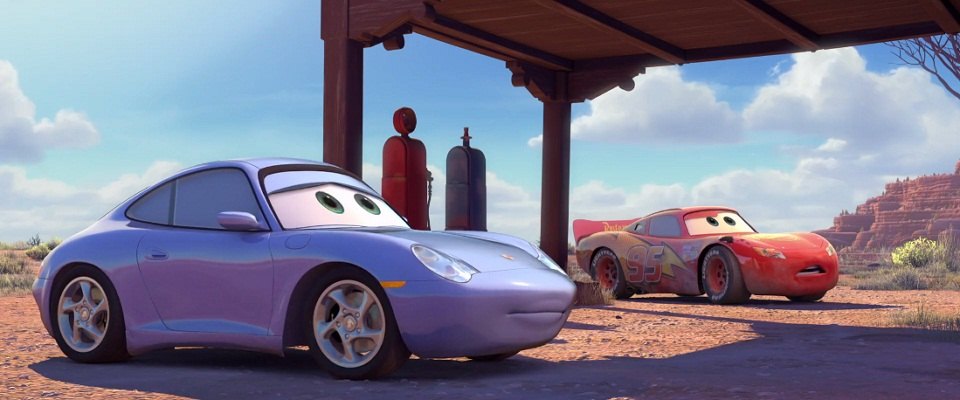 It's fair to say that Disney know how to do films and the 2006 release of animated movie Cars was no exception. Lightning McQueen, who is voiced by Owen Wilson, is the obvious star of the show but it's his romantic interest come best friend Sally Carrera that is the true hero. It is her persistence and reliability resonate with Lightning not to give up.
Of course, Sally is modelled and named after the 2-door coupe Porsche 911 and she appears in each instalment of the Cars trilogy. A fan favorite, without question, especially for children.
1 – LE MANS
What's orange and sky blue and tops out at 390km/h? That's right, it's Steve McQueen's Porsche 917 from the racing blockbuster Le Mans. The 1971 blockbuster focusses on Michael Delaney, McQueen's character, and his battle to decide between racing and love.
One-year earlier Delaney had been involved in an incident that resulted in the death of Piero Belgetti and now it was his widow who Delaney wanted. Our true love was always the car.
Speaking of Le Mans, stay tuned for the movie Ford vs Ferrari, that is likely to be released this November and which should be a delight for car enthusiasts. Since the movie is about the Le Mans 66 race, it is likely that we see some Porsche's on screen too.
One thing is sure: with Christian Bale and Matt Damon together, that flick is probably more likely to be an Oscar contender than the New England Patriots to be SuperBowl favorites in the online sportsbooks.