All over the world, there are many people with the good budget invest in a Porsche even some of them can afford for 30 ones. However, in this article, I just focus on the celebrity Porsche collectors who love limited and special edition models more than price and quantity.
Please have a look at my list of the 4 famous Porsche collectors recently.
The top four famous Porsche Collectors
Salomondrin
According to YouTube and Instagram, Salmondrin Porsche collector is the most down-to-earth. Porsches make the reputation of Salomondrin who earns a vast gargantuan income thanks to his investment in Hollywood about productions as well as other technologies. Besides, he also buys a Porsche 918, GT4, 4.0, GT3 RS, and others to find out a better method for using it up.
I am sure that Salomondrin is on the VIP list of Porsche. Though now, he has trouble that Ford did not sell Ford GT for him, I believe that problem will be solved soon.
Not many people think that there will be the appearance of a woman on this list but the fact is that unlike BMW, Mercedes, or other luxury brands, the primary owners of Porsche are males. Even Ellen DeGeneres is a loyal owner of Porsche for a long time.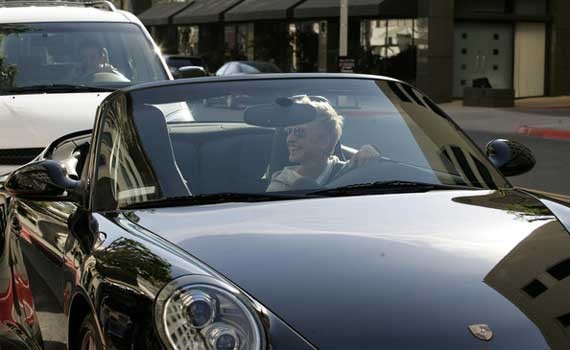 Her collection includes 1997 or 1998 Porsche 911 Carrera, Porsche 911 Carrera GTS, and the Sport-Chrono package. The love of Ellen with her Porsches is also expressed through she knows how to get the combination of a luxurious and sporty model.
Jerry Seinfeld
This is likely the most well-known Porsche collector all over the world. He is both actor and mega-comedian. On his early career, Seinfeld is obsessed by the Stuttgart manufacturer. The collection of Porsches is up to 40 new and vintage models along with a few other pristine racing ones.
After a period, some of them are skyrocketed in price so he trimmed the collection but a part of some expensive and favorite models.
Read more: http://www.mirror.co.uk/3am/celebrity-news/jerry-seinfeld-cash-20-million-7368307
Patrick Dempsey
At the Indianapolis Motor Speedway, Mr. Dempsey mentioned to his racing and the obsession about Porsche. I feel the secret of Patrick Dempsey about becoming another Steve McQueen while his love is for vintage Porsches.
Unlike other famous Porsche collectors, rather than the newest models, Dempsey and his girl fans choose a vintage 911 Carrera or a beautiful RS model. The reason is likely at Le Mans, he had the best and latest experiences from Porsche when driving his 911 GT RSR.
Conclusion
Is my post informative? Above are just suggestions in my opinion. Do you have other famous Porsche Collectors to add to this list? Please let me know what you are thinking in the comment section below. And don't forget to share if you love it.